InvestorPlace – Stock Market News, Stock Advice & Trading Tips
Want to see Wall Street analysts at their most confused? Ask them about cryptocurrency predictions for 2021. As bitcoin, Ethereum, XRP and others have rocketed in value, never before has Wall Street seemed so hesitant about "digital gold," a name they use to invoke a margin of safety. But as any experienced crypto investor knows, that's not the way cryptocurrencies work. Instead, it's a digital popularity contest where winners keep winning and losers bite the dust.
So, which cryptocurrencies can make you rich in 2021?
To answer that question, we need to explore the world of altcoins — up-and-coming coins that you can buy for cheap. That's because it pays to get in early. For example, $1,000 invested in Ethereum's initial coin offering (ICO) would be worth $3.3 million today. Meanwhile, $1,000 invested in bitcoin today might earn "just" 4-5x upside if you believe JP Morgan's lofty $146,000 target price.
But there are also significant risks because cryptocurrencies have no intrinsic value. Instead, their worth comes from their users. The more users a coin has, the more useful it becomes, and the higher its price goes. But when a coin falls out of favor, there's nothing to stop it from going to zero. That means investing in cryptocurrency requires strong belief that others will eventually buy it from you for even more.
With so many coins out there, it's often hard to know even where to begin. But to get you started, here are the top 25 cryptocurrencies you need to know for 2021:
Ethereum (ETH)
Bitcoin (BTC)
XRP (XRP)
Stellar (XLM)
Cardano (ADA)
Dogecoin (DOGE)
Polkadot (DOT)
Neo (NEO)
Celsius (CEL)
Nano (NANO)
Chainlink (LINK)
Monero (XMR)
Tether (USDT)
Litecoin (LTC)
Binance Coin (BNB)
NEM (XEM)
TRON (TRX)
Dash (DASH)
Zcash (ZEC)
Bitcoin Gold (BTG)
Bitcoin Cash (BCH)
Bitcoin SV (BSV)
EOS (EOS)
VeChain (VET)
Dai / MakerDao (DAI)
Keep in mind that while each has enormous potential, some are safer bets than others. As such, I've organized the cryptocurrencies based on their overall risk-to-reward potential from most balanced to least. With that in mind, let's take a closer look at the world of cryptocurrency.
Ethereum (ETH)
Ethereum is a relative newcomer that has risen up the ranks thanks to its superior technology and its ability to create "smart contracts."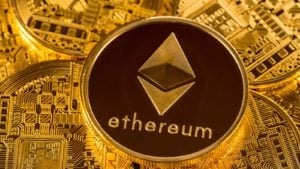 Source: Shutterstock
Approximate Market Cap: $100 billion
Year Established: 2015
Cost Per Transaction: $10
2020 Return: 470%
Score: ★★★★★
Ether, the cryptocurrency of the Ethereum blockchain, is a technologically advanced version of bitcoin. Rather than hold itself as "digital gold," Ethereum runs on a series of contracts. That makes it more like Google Wallet or Apple Pay — a system that can approve or delay transactions based on real-world events. Online buyers and sellers, for instance, could set up trades that only follow through when the postal service independently verifies the delivery of goods.
Ethereum is also blazingly fast compared to bitcoin: transactions only take 15 seconds to clear, rather than 15 minutes. Although trading costs are still high, its speed makes Ethereum useful for real-time use, rather than only as a store of value. Finally, Ethereum also has widespread adoption, with over 600,000 wallet addresses in use. As developers add services and protocols to make cryptocurrencies more useful, Ethereum looks set to keep winning.
These qualities have pushed Ethereum to my No. 1 spot in terms of risk-to-reward potential, despite it having a later start than many other currencies. Its winning combination of widespread usage, technological superiority and relative safety (compared to smaller coins, at least) makes it a superior investment. Plus, it's one of the few currencies still trading below its 2018 peak.
Bitcoin (BTC)
Bitcoin is the most widely adopted cryptocurrency. Although it's not the most technologically advanced, it continues to lead the pack.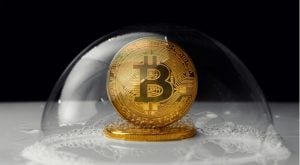 Source: Shutterstock
Approximate Market Cap: $600 billion
Year Established: 2009
Cost Per Transaction: $15
2020 Return: 309%
Score: ★★★★★
The first successful cryptocurrency continues to lead the pack. With its first-mover advantage, bitcoin not only won early name recognition. It also became the de-facto cryptocurrency for mainstream investors. Smaller investors can use Square (NYSE:SQ) and Paypal (NASDAQ:PYPL) services to buy as little as $1 (or as much as they can "hodl"). Meanwhile, institutional investors can use the Chicago Mercantile Exchange (CME) to transact millions of dollars in futures.
That makes bitcoin an essential allocation. The world's No. 1 coin makes up close to two-thirds of the entire cryptocurrency market, providing liquidity between smaller altcoins. Its size also makes it resistant to 51% attacks, where large cryptocurrency miners attempt to use computing heft to try manipulating the blockchain.
However, popular as it may be, bitcoin has some downsides. As one of the earliest blockchains, bitcoin's ledger is large and unwieldy. Transactions can cost $12 to complete and take over 15 minutes to clear. That's fine for its purpose as "digital gold," but it prevents BTC from use as a day-to-day currency. (People paying in bitcoin will often use third-party services to transact small amounts).
Bitcoin is also extremely sensitive to macroeconomic movements — the currency lost half its value in the most recent U.S. stock market downturn. And if 2021 reveals a weak economic recovery or mutated strain of the novel coronavirus, bitcoin could easily lose 50-80% of its value. But for those looking to invest in cryptocurrency, bitcoin remains the most liquid option. It's an essential coin to hold, and one I give top marks for in 2021.
XRP (XRP)
XRP is a centralized cryptocurrency that's geared toward taking out the high costs of inter-bank transfers.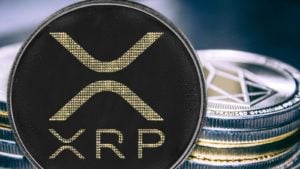 Source: Shutterstock
Approximate Market Cap: $13 billion
Year Established: 2012
Cost Per Transaction: Nominal
2020 Return: 16%
Score: ★★★★★
If I could only…


Read More: The Top 25 Cryptocurrencies to Know in 2021: BTC, ETH, XRP, XLM and More