Good morning. A landmark corporate tax pact, caution on easing restrictions and meme stocks continue to grab attention. Here's what's moving markets.
Tax Deal
The Group of Seven rich nations secured a landmark deal that could help countries collect more taxes from big companies and enable governments to impose levies on U.S. tech giants. The deal satisfies a demand from the U.S. for a minimum corporate tax rate of "at least 15%" on foreign earnings and will pave the way for levies on companies in the countries in which they operate, rather than just those they are based in. Note, however, that key details need to be nailed down and the full implementation could take years with a need for more countries to sign up. Ireland, for example, has already expressed concerns given the hit its revenue would take.
Easing Dilemma
It is too early to say whether the planned easing of virus restrictions in the U.K. will go ahead on June 21, U.K. Health Secretary Matt Hancock said as the government contends with rising cases and the threat of another wave of infections. The caution comes after the U.K. last week removed Portugal from its "green list" of countries it is relatively easy to travel to, a decision made as holiday bookings rise in the European Union to potentially mitigate the hit for airlines and tour operators. Meanwhile, the U.K. plans to donate more than 100 million Covid-19 shots to developing countries.
AMC Drama
AMC Entertainment and GameStop, the defining names of the meme stock craze, are set to remain clearly in focus this month in the leadup to the final determination of whether both will join the large-cap Russell 1000. Inclusion could prove an issue for the two meme stocks, given their representation in the larger-cap index will be much less impactful. In the immediate term, however, AMC and its wild recent ride, including an embrace of the retail trader crowd contrasting with GameStop, will continue to take up air. It also puts a spotlight on index funds and has relegated some Wall Street voices who normally drive share prices to the role of mere extras.
Influencer Crackdown
Bitcoin slipped over the weekend following a relatively calm week for the biggest cryptocurrency only disturbed by an Elon Musk tweet. On Sunday, Bitcoin and other tokens fell amid worries about a further crackdown on the industry in China, after social-media service Weibo appeared to suspend some crypto influencer accounts. In addition, a Goldman Sachs report served to remind that institutional adoption of the cryptocurrency may be a long road. Still, believers continue to support the market in the shape of El Salvador's government and payments firm Square.
Coming Up…
European and U.S. stock futures are trending slightly lower, with Asian stocks wavering too, as traders weighed up comments from U.S. Treasury Secretary Janet Yellen that higher interest rates would be a "plus" for the Federal Reserve. German Chancellor Angela Merkel's party saw off a far-right challenge in local elections in the country's poorest state. Also watch results from polls in Mexico, for Spanish lenders exposed to the country, and from Peru, for the copper industry. And keep an eye on any reaction to more strong trade data from China.
What We've Been Reading
This is what's caught our eye over the past 24 hours. 
And finally, here's what Cormac Mullen is interested in this morning
Cybersecurity concerns have been front page news all over the world for the last couple of weeks but are having surprisingly little impact in the stock market. The Nasdaq Cybersecurity Index has slipped about 1% this year, underperforming the 7% rise in the broader tech-heavy benchmark. As my colleague Claire Ballentine pointed out this weekend, cybersecurity-focused ETFs have seen little in the way of inflows despite a slew of high-profile hacks that targeted everything from U.S. fuel pipelines to global meat producers to Ireland's health system. The $2.2 billion ETFMG Prime Cyber Security exchange-traded fund saw inflows of just $13 million in May after two straight months of outflows, according to data compiled by Bloomberg. The underperformance and lack of interest is likely down to concerns about valuations — the cybersecurity gauge is trading on a punchy 33 times forward earnings compared to 26 times for the Nasdaq 100. But given the ominous growth in ransomware attacks — which spurred the White House to urge every U.S. company to beef up its cybersecurity measures — this may be one case where a valuation premium is justified.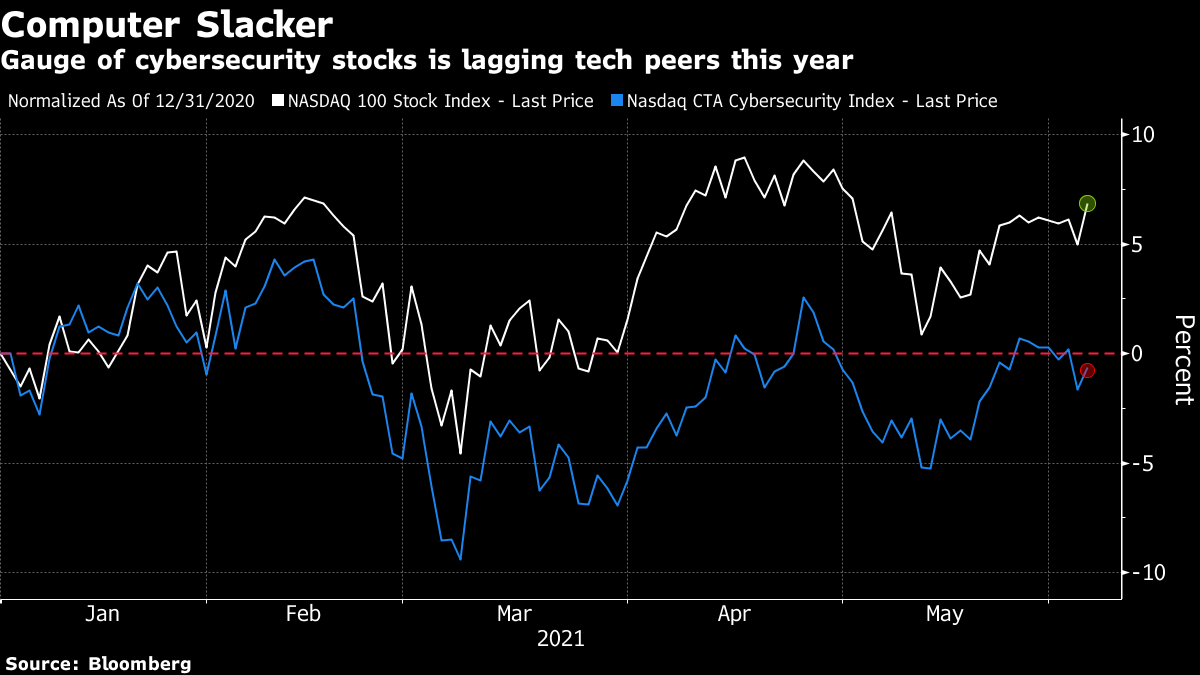 Cormac Mullen is a cross-asset reporter and editor for Bloomberg News in Tokyo.
Like Bloomberg's Five Things? Subscribe for unlimited access to trusted, data-based journalism in 120 countries around the world and gain expert analysis from exclusive daily newsletters, The Bloomberg Open and The Bloomberg Close.
— With assistance by Cormac Mullen, and Gearoid Reidy


Read More: Stock Markets Today: Corporate Tax, U.K. Virus Restrictions, AMC, Bitcoin