The UNI/USD closed at $28.4090, after reaching a high of $29.1620, and a low of $27.2250. Uniswap regained its bullish momentum on Sunday, after declining on Saturday.
The leading decentralized exchange, Uniswap, has become the first decentralized finance protocol to generate more than $1 billion worth of platform fees for liquidity providers. The combined fee revenues of Uniswap's v2 and v3 Ethereum mainnet deployments have surpassed $1 billion.
The head of research at crypto data aggregator, Lucas Outumuro, has shared a chart on Twitter showing the fees generated by both Uniswap v1 and its v3 deployment on Optimism. Outumuto said about $1.02 billion had been distributed to Uniswap liquidity providers since November 2018, when the protocol was created. This added to the value of the UNIs/USD and pushed it higher.On the other hand, the declining prices of the US dollar on Friday also added further gains to the Uniswap prices. The US Dollar Index, which measures the greenback's value against a basket of six major currencies, rose to its highest level in nine-and-a-half months, at 93.76, amid the increased demand for safe-havens. However, the prices faced resistance, and a sell-off was triggered in the market, which dragged the US dollar to the 93.5 level on the same day.
The reduced strength of the US dollar, amid the recent sell-off just before the weekend, added further gains for the UNIs/USD over the weekend, as they are negatively correlated, which means rising prices of the greenback can drag the UNIs/USD prices to the downside and vice versa.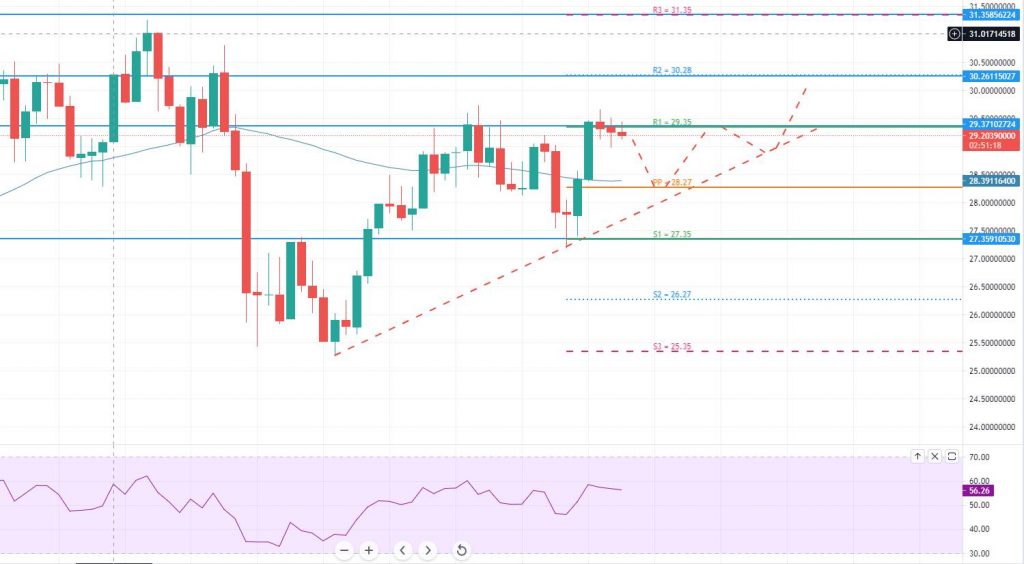 Support      Resistance
27.3686                     29.3056
26.3283                    30.2023
25.4316                     31.2426
Pivot Point:              28.2653
On Monday, the UNI/USD was trading with a slight bullish bias at the 29.40 level, facing resistance at the 29.35 level. On the higher side, the next resistance remains at 30.25 and 31.35, along with support levels of 28.25 and 27. The 50 EMA and the RSI are in support of a buying trend. Therefore, we should look for a buy trade over 28 today. Good luck!