Several large-cap cryptos are seeing short-term price gains, and investors are looking to buy UNI as its price has jumped this week. Like several other decentralized finance (DeFi) protocols, Uniswap has seen increased use as investors and customers pile on to use it.
If you've been enticed by the recent price gains and would like to buy UNI, we've got some insights to help you know whether the asset is a good option.
Uniswap: A DEX With a Difference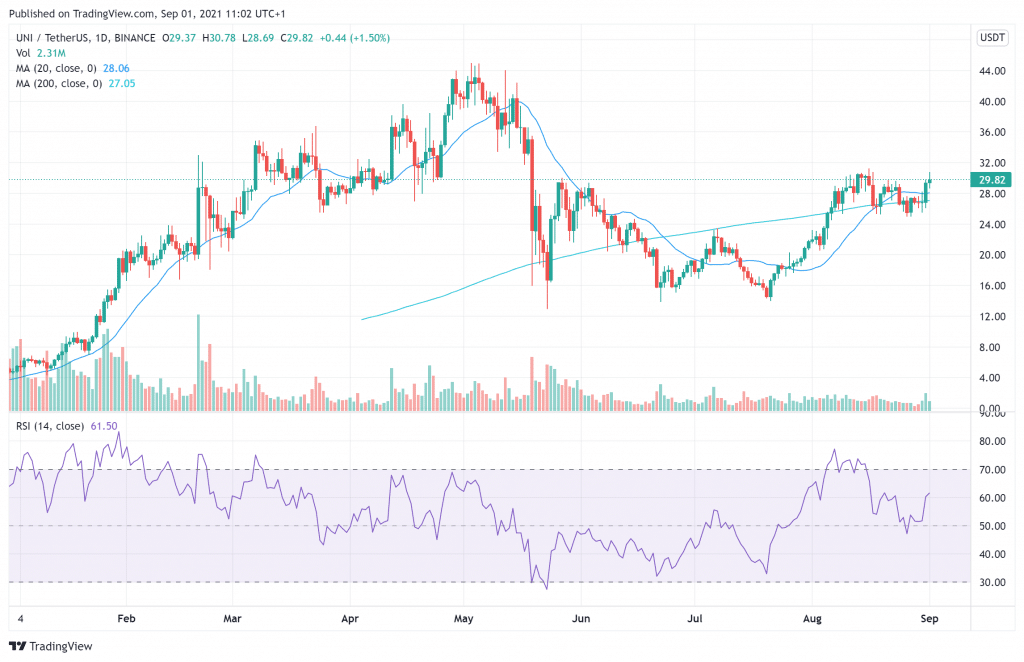 Uniswap is a decentralized exchange (DEX) – a crypto exchange that takes out middlemen and allows users to trade and transact freely.
While DEXs look to solve several of the issues with their centralized counterparts, they also suffer from several issues – majorly insufficient liquidity, where exchanges don't have enough money to conduct transactions and transfers.
Uniswap looks to solve this liquidity problem by allowing token swaps without relying on users' ability to supply liquidity.
Built on the Ethereum blockchain, Unniswap's major benefit is a pricing mechanism known as the "Constant Product Market Maker Model." With this model, any token can be added to Uniswap by funding it with an equivalent value of ETH and an ERC20 token.
At the same time, Uniswap supports all ERC20 tokens. They can be added to the exchange without permission requirements, and each token can have its own smart contract and liquidity pool.
Once a token has its smart contract and liquidity pool, anyone can trade it or contribute liquidity. While earning a 0.3 percent liquidity provider fee.
UNI is the governance token for the Uniswap ecosystem. Holders are given a vote in how the protocol is run, and they can vote on developments in the ecosystem, the UI treasury, the protocol fee switch, and much more.
UNI is now available on several of the world's top exchanges, with investors and traders able to buy UNI for different functions.
UNI Price Movements in 2021
Like several breakout tokens in the DeFi ecosystem, UNI had already gotten considerable visibility before 2021. Many had rushed to buy UNI, whether as a speculative investment or for the governance of the Uniswap ecosystem.
Entering 2021, UNI had a price point of $5.19. As more people started to buy UNI due to the market rally, its price soon jumped significantly. UNI hit the $30 line on February 21, and its all-time high of $45.01 came on May 4.
When the downturn hit, UNI plunged significantly as well. Investors didn't have any incentive to buy UNI, especially with the DeFi market taking a beating. UNI dropped to $12.92 on May 23, marking a drop of 71.2 percent from its all-time high.
Interestingly, UNI hasn't found a bottom lower than this point. Most assets have bottomed out several times since May, especially with two major bearish cycles coming since then. UNI continued to trade within the $12 -$15 region, but it never crossed its May 23 bottom again.
Over the past month, Uniswap has performed relatively well. The market rally has helped DeFi too. This saw the token jump 36 percent from $21.96 to its current price of $29.86.
Currently, UNI is up 7.1 percent in the past day and 16.2 percent in the past week.
UNI: Technical & Fundamental Analysis
UNI is still holding quite strong on the technical front. The asset is trading just above its moving averages (MAs), with its 20-day MA holding at $28.16 and its 200-day MA standing at $27.12. Its ability to keep this rally going will determine whether UNI will be able to hold above these averages. If it can't, investors might not be willing to buy UNI anymore.
UNI's relative strength index (RSI) is 62.16, which is relatively underbought for a cryptocurrency. But, the metric has been on the rise all week, suggesting that investors have seen the gains and are more encouraged to snap some UNI tokens.
Uniswap remains the industry's top DEX, with 2.5 million active users according to recent data from Dune Analytics. If the market rally can maintain, investors will definitely move deeper into DeFi, much to the benefit of platforms like Uniwap.
Buy UNI at eToro from just $50 Now!


Read More: Uniswap Price Up 7.10% – TIme to Buy Uniswap Coin?