The cryptocurrency market is filled with ups and downs. Every week, we profile the digital assets making the biggest price moves in the market.
The second week in September has been quite interesting for the crypto space. The market has slowed down to where it was in the first week, but some investors remain bullish. The total market cap of the crypto market is now $2.08 trillion, with Bitcoin having a 41.46% dominance in the market. In this roundup, we examine some of the trending cryptos for the week and their price movements.
1. Bitcoin (BTC)
Bitcoin is the largest and most popular cryptocurrency. The trending coin has continued to enjoy the power of incumbency for long, and it remains the dominant force in the market. With that alone, it definitely ranks on our list of trending cryptocurrencies.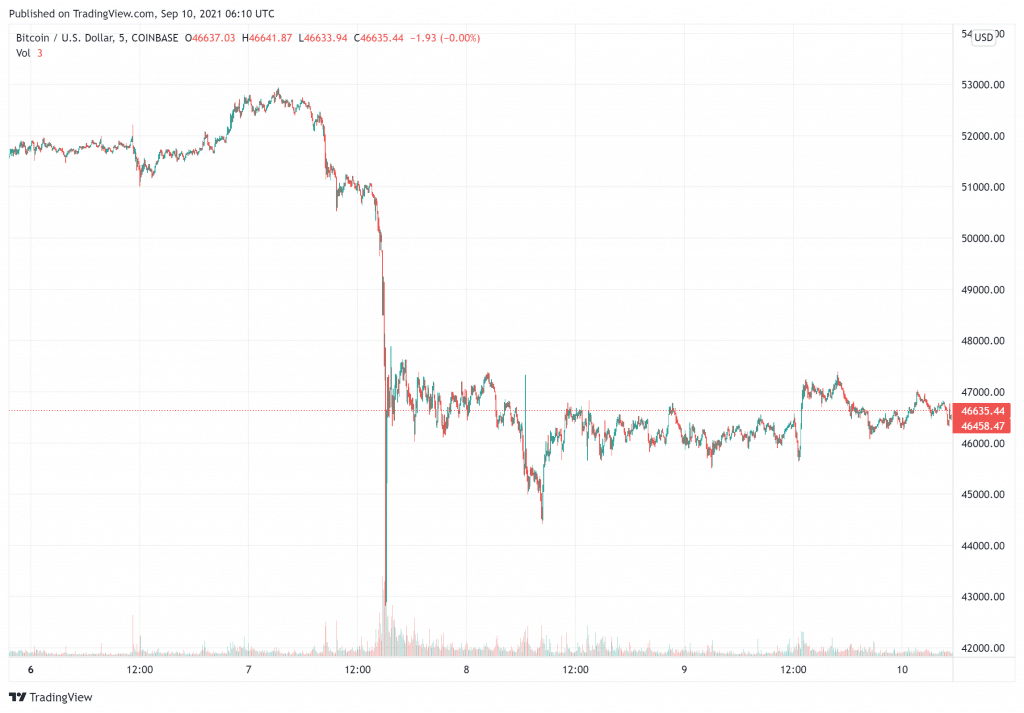 BTC's Weekly Performance
The second week of September wasn't quite kind on Bitcoin. The asset had been looking to make bigger moves after crossing $50,000 earlier this month, but a sudden market correction put a damper on things.
Bitcoin rode a heavy rally into Monday, with the coin's price standing at $51,824 at the time. The rally continued, with Bitcoin hitting a weekly high of $52,906 late on Tuesday. Suddenly, the market corrected, and Bitcoin fell off its perch. On Wednesday, Bitcoin fell by 19 per cent from its weekly high to bottom out at $42,819. The coin has been looking to climb back and continue its bull run. Bitcoin currently trades at $46,684 – up 0.7 per cent in the past day but down 5.77 per cent in the past week.
Bitcoin in the News
Bitcoin always has something in the news. This week, El Salvador's Bitcoin law finally took effect. This means that companies and individuals across the Latin American country can now accept the cryptocurrency. Rumours are also swirling around the possibility of Twitter adding a Bitcoin payment feature in its Tip Jar service. This could be the biggest adoption from a Big Tech company to date.
2. Ethereum (ETH)
Ethereum is the market's leading altcoin by quite a mile. The coin has established itself as a true contender, thanks in no small part to the near-global adoption of its Ethereum blockchain.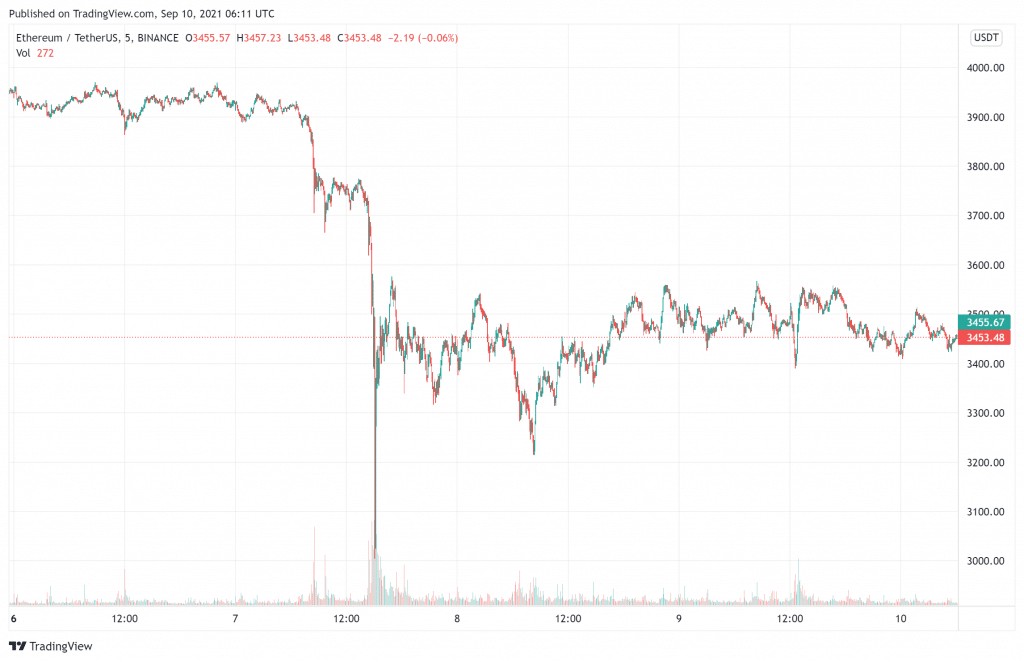 ETH's Weekly Performance
As with all large-cap coins, Ether suffered a blow when the market correction came along. Bitcoin might have led the way, but Ether was not far behind.
Moving into Monday, ETH traded at $3,958. There was a lot of hope that the coin would finally break the $4,000 mark for the first time in almost five months, but it never quite hit that mark. ETH's weekly high was $3,970, which it hit on Tuesday. Then, it was all downhill.
As soon as the correction came, ETH joined other large-cap cryptos in losing big. The coin's price dipped multiple times over the next day, eventually bottoming out at $3,022 – a drop of 23.8 per cent. The climb back has been quite swift, but definitely not enough. ETH currently trades at $3,454 – down 1.44 per cent in the past 24 hours and down 9.12 per cent in the past week.
Ethereum in the News
Like Bitcoin, Ethereum is always in the news as a major trending coin. It is one of the most trending cryptocurrencies any day. This week, it was reported that layer-two solutions for Ethereum have been processing more transactions than Bitcoin. This shows that the adoption of the Ethereum blockchain remains strong, especially among developers looking to build on it.
This rise in adoption caused British banking giant Standard Chartered to publish a bullish forecast on ETH. In an investor guide, the company shared more bullish forecasts for ETH than BTC, giving more speculation that ETH could indeed flip BTC in the coming years.
3. Cardano (ADA)
Cardano is one of the most popular blockchains in the world at the moment. The blockchain has been especially popular for its speed and security. It has become especially popular among investors who have lost patience with the Ethereum blockchain and its scalability issues.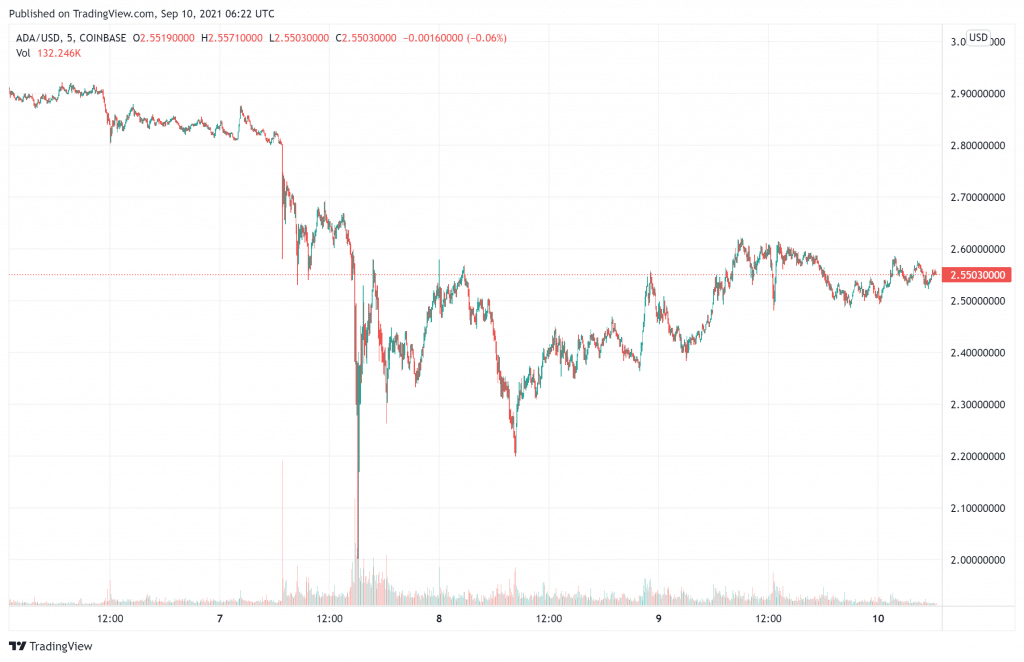 ADA's Weekly Performance
ADA has been doing pretty well for the past month. Its price set a new all-time high last week, crossing the $3 mark for the first time. Sadly. It wasn't able to hold on to this price peg for long. Despite this, investors were confident of a resurgence. ADA started the week strong, going into Monday trading at $2.92. The strong performance continued, with the coin hitting a weekly high of $2.93 that same day.
Sadly, ADA began to dip much earlier than its compatriots atop the rankings. Its price slipped to the low $2.80 region by early Tuesday, and it was all downhill from there. ADA hit a low of $2, marking a 31.7 per cent drop from its weekly high. Interestingly, ADA's climb was swift and comprehensive. The coin quickly got back up, and it even hit $2.6 by Thursday. Currently, ADA trades at $2.55 – up 0.77 per cent in the past day but down 13.94 per cent in the past week.
Cardano in the News
The big news surrounding trending coin Cardano surrounds the launch of its smart contracts via the Alonzo upgrade. The upgrade will essentially put Cardano in the same league as names like Ethereum and entice developers to build on it. Sadly, Alonzo's final stretch hasn't been so smooth. Minswap, a decentralized exchange that runs on the blockchain, suffered concurrency issues and had to shut down this week. Users criticized Cardano for this, although Charles Hoskinson, the blockchain's creator, has tried to calm fears. Alonzo's mainnet rollout is expected on September 12.
4. Solana (SOL)
Solana has been the No 1 trending coin this week. The coin's performance has been incredible, with SOL being able to largely buck against the trend of price drops that disrupted the movements of other large-cap coins.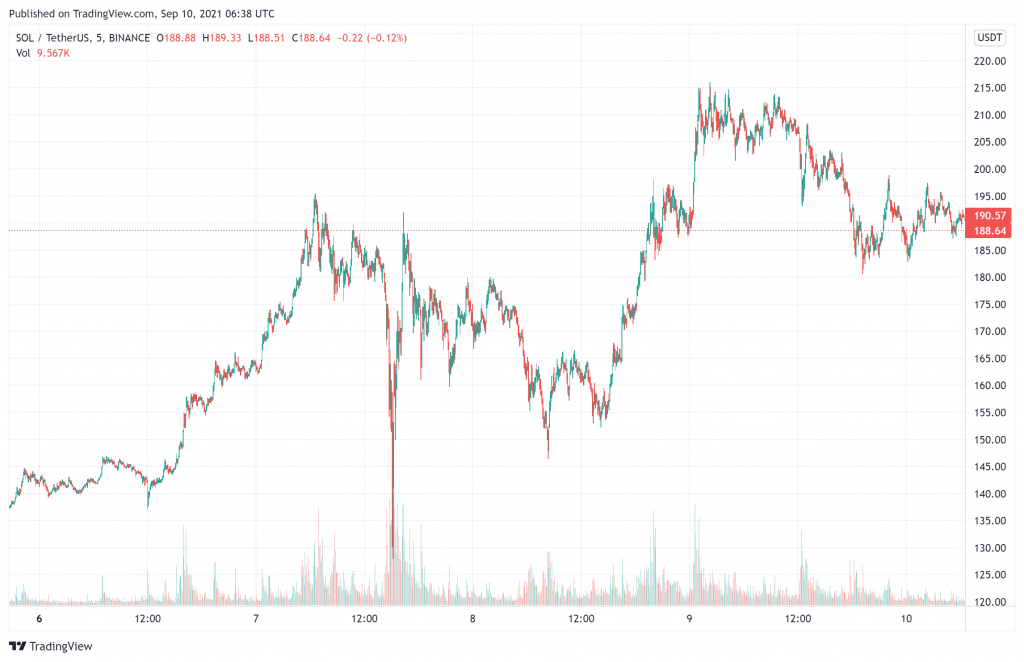 SOL's Weekly Performance
SOL started the week pretty strong, trading at $143.35 going into Monday. The coin had retraced to $137.74 by the end of the day, and investors were expecting a modest jump. Then, SOL did the unthinkable and just continued surging. The coin went as high as $195.04 on Tuesday, although the correction pulled it back all the way to $130.14 – a drop of 33.2 per cent. While other coins have looked to climb slowly, SOL hasn't. The coin made a dramatic rise still on Tuesday, and it managed to close the day trading at $170.44.
By Wednesday, there was no stopping SOL. The coin jumped even higher, eventually hitting $215.52 on Thursday. There has been a retracement since then, but investors remain confident of bigger gains. SOL now trades at $187.89 – down 8.7 per cent in the past day but up 31.86 per cent in the past week.
Solana in the News
Solana's profile has been growing significantly. This week, top crypto exchange Delta launched options trading for the SOL and ADA. This will offer additional exposure to investors looking to buy and speculate on the coin's price – especially now that it's in red hot form.
5. Binance Coin (BNB)
Binance Coin is the native token for top crypto exchange Binance. The coin has also been doing pretty well this year, rising as high as #3 on the CoinMarketCap charts per market cap before being knocked down by ADA.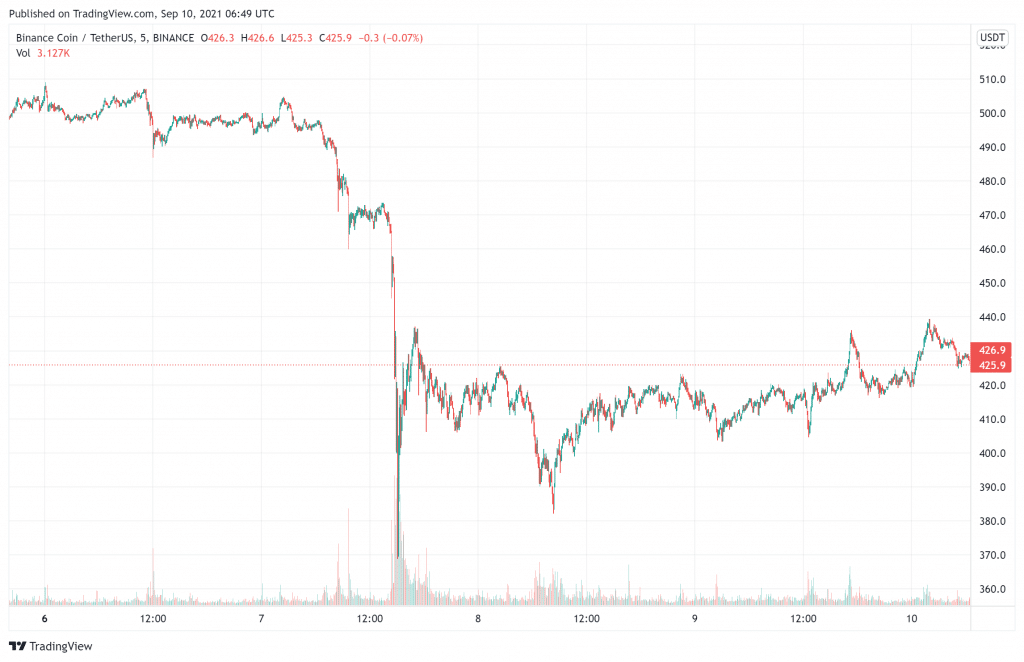 BNB's Weekly Performance
BNB moved into Monday, trading at $503.6. The asset was looking pretty strong, and it even climbed to $506.4 on Monday. While that price dropped, it was still able to hover above $500 long enough.
By mid-Tuesday, BNB's slide had begun. When the corrections as over, it had dropped all the way to $370.3 – a slump of 26.87 per cent from its weekly high. BNB's climb back has been slow and painful, but the coin has been doing quite well. BNB currently trades at $426.10 – up 2.76 per cent in the past day but down 12.17 per cent in the past week.
Binance Coin in the News
So far, there hasn't been much news from Binance or their trending coin BNB this week. The exchange itself continued to battle with a torrent of regulatory conflicts and issues. It recently engaged in a tit-for-tat with the Financial Sector Conduct Authority (FSCA) of South Africa. If Binance can keep its affairs in order, stability can finally come in – much to BNB's benefit.
6. Quant (QNT)
Quant is one of those blockchain projects you've probably never heard of. The interoperability-focused blockchain project helps enterprises and companies to integrate blockchain into their services better. Amid the market correction, investors sought safe havens to hedge their wealth. Interestingly, Quant's QNT token was one of the best performers through this period.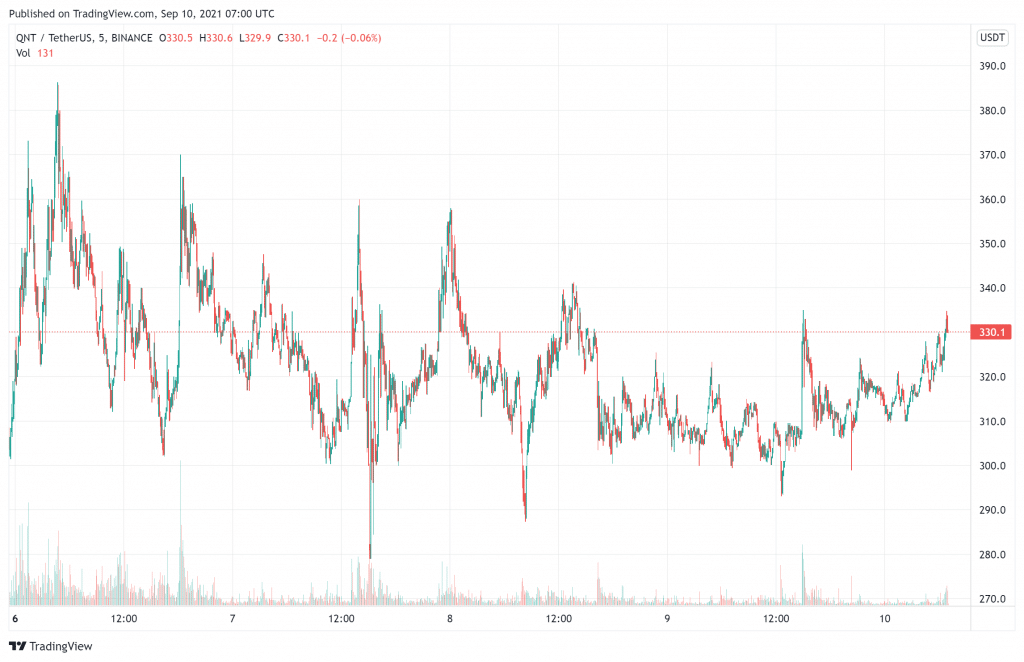 QNT's Weekly Performance
QNT started the week trading at $312.5. The coin rode Monday's rally to hit $381.5 and thus began a rollercoaster ride unlike we've seen in a long time.
The QNT price was also affected by the correction. The asset traded at an intra-day high of $395.4 on Tuesday; then its price fell sharply by 22 per cent to hit $280.3. But, while other coins climbed slowly, QNT quickly rose again and was back up to $356.9 in the early hours of Wednesday.
The rollercoaster ride has continued, but QNT is firmly above the $300 line for now. The coin trades at $330.07 – up 9.76 in the past day and 77.22 in the past week.
Quant in the News
So, why is QNT among the trending cryptocurrencies? Well, it all has to do with Quant itself. The project has been expanding, with the release of its OverLedger 2.0.5 blockchain gateway on Tuesday. The gateway will connect enterprise and institutional ecosystems with multiple digital assets for seamless settlement and clearing.
7. Algorand (ALGO)
It has been an impressive year for blockchains, thanks to the increased demand for their solutions. Algorand is another blockchain that has been seeing massive adoption, and the protocol's ALGO has been one of the top trending cryptocurrencies this week. Like many of its mid-tier compatriots, ALGO has offered a haven to investors looking to shield themselves from the market correction.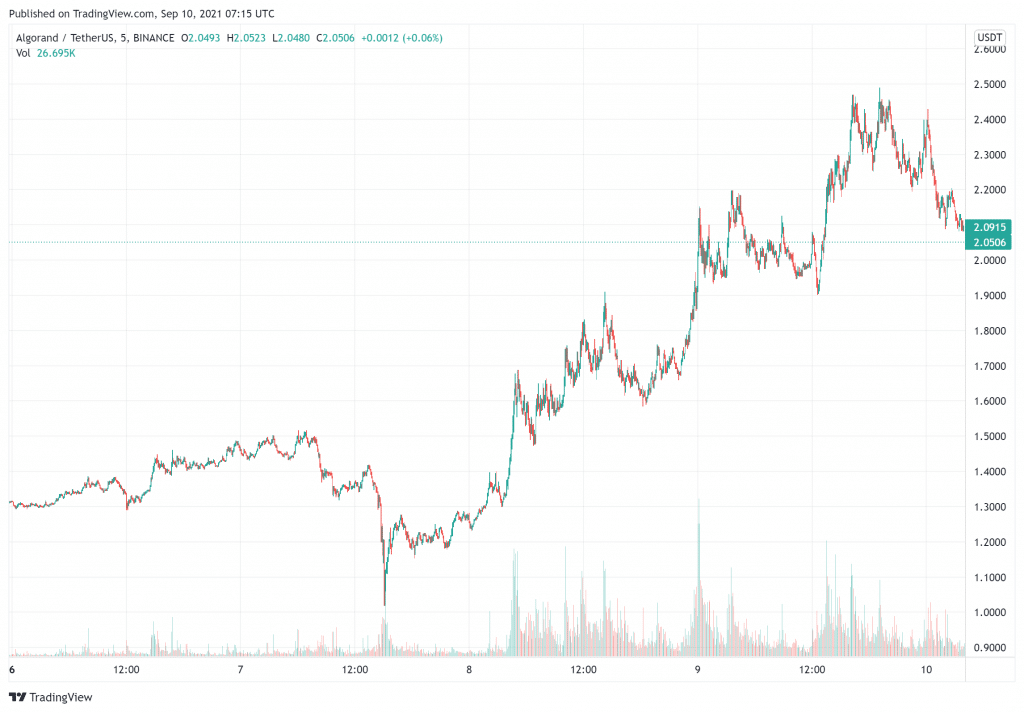 ALGO's Weekly Performance
ALGO has been a…


Read More: Top Trending Coins in September Week 2