Cardano continues to challenge its previous record prices by recording new all-time highs. As long as this strong uptrend progresses, investors would continue to buy ADA. Since the token climbed up the rankings a few days ago to become the third-largest cryptocurrency, it has shown no signs of slowing down. Below, we'll look into why Cardano is hitting higher levels and whether it is a solid option to buy.
Cardano: Using Blockchain To Solve Real-world Problems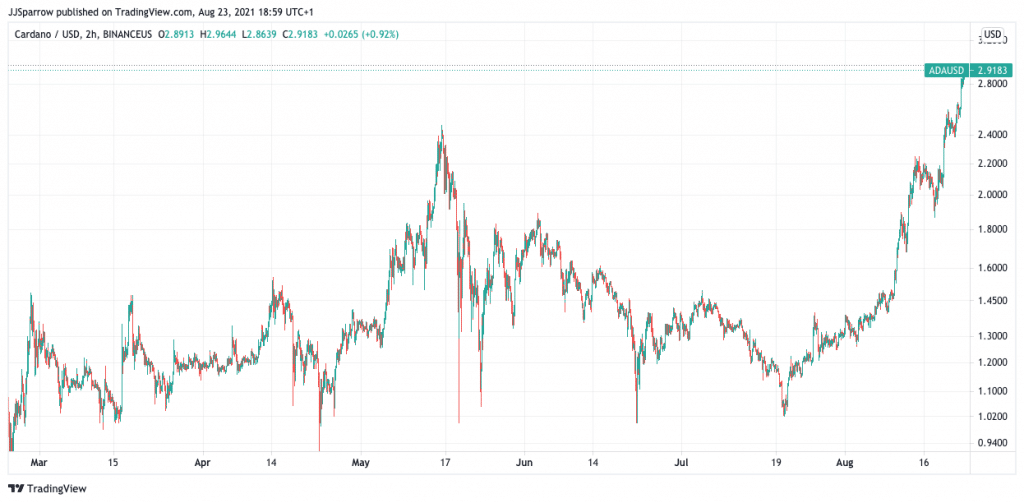 Cardano is a peer-reviewed and scientifically researched network that aims to use blockchain technology to solve real-world problems.
The platform has ties with the Ethereum network in the person of founder Charles Hoskinson. Hoskinson was one of the early co-founders of Ethereum alongside Vitalik Buterin, Gavin Wood, and several others.
The founder left Ethereum in 2017 to build Cardano, a more generic, scalable, and inclusive crypto ecosystem. The platform, which was developed by Hong Kong-based Input Output Hong Kong (IOHK) firm and commercialized by Emurgo, claims to be the third generation of blockchain technology.
The Cardano network is still under development but has so far generated a lot of buzz following its consistent roadmap and focus in changing the crypto landscape. It aims to displace the smart contracts dominance of Ethereum by creating a more cost-efficient and interoperable blockchain.
Cardano uses a proof-of-stake (PoS) consensus algorithm called Ouroboros. This protocol, according to the development team, enables the delegation of a particular validator based on epochs or timeframes.
This also makes the Cardano network energy-efficient, and its transaction costs are also cheaper than Ethereum's.
ADA is the protocol's native token used for transactions on the blockchain. It is also used in staking pools to earn rewards and participate in the smooth running of the network.
ADA Steady Recording New ATH Prices
Cardano's recent surge might leave investors wondering if this is the right time to buy ADA. The digital asset is one of the hottest cryptos, having gained 23% over the past week.
Cardano is currently the third most valuable crypto asset with a huge market cap of $91 billion. ADA has steadily been recording all-time highs. Last week, it breached its all-time high mark and climbed higher today to yet another record price of $2.88.
While ADA has gained tremendously this year, the token has had even more remarkable progress this month. It started the month of August trading at $1.317 and continued to climb gradually.
On August 13, ADA reached a high of $2.136, but it fell to $1.926 a few days later. However, the asset found its feet again and climbed to $2.108 on August 18.
The ADA token price has gone up by 8.68% in the last 24 hours and is presently trading at $2.85. If you have been considering adding the asset to your portfolio, now might be a good time to buy ADA.
ADA Technical and Fundamental Analysis
On the trading chart, ADA price technicals are strong. The asset's relative strength index (RSI) is 84.15, indicating it is trading above the overbought region. This might be an opportunity to buy ADA now.
ADA is trading above the 20-day moving average (MA) support at $1.96, signaling a bullish intent. The asset's 200-day MA is also bullish, with the digital token trading at $1.384.
On the fundamental side, news about the Cardano's network's upcoming upgrade appears to have been the reason for ADA's fueled interest and upward climb. It was recently disclosed that the upgrade dubbed 'Alonzo' would be launched on September 12 this year. The upgrade is expected to introduce smart contracts to the Cardano mainnet.
The Smart contract functionality is a big step that will let Cardano compete with other programmable blockchains and expand the potential solutions it offers developers.
Another development that has influenced ADA's bullish trend is the forthcoming listing of ADA in Japan. The country is considered to have one of the 'most demanding' listing criteria worldwide, which is why ADA getting approval here is a big deal. It is scheduled to be listed on August 25, 2021.