On the evening of 7 December 2010, in a hushed San Francisco auditorium, former Google engineer Patri Friedman sketched out the future of humanity. The event was hosted by the Thiel Foundation, established four years earlier by the arch-libertarian PayPal founder Peter Thiel to "defend and promote freedom in all its dimensions". From behind a large lectern, Friedman – grandson of Milton Friedman, one of the most influential free-market economists of the last century – laid out his plan. He wanted to transform how and where we live, to abandon life on land and all our decrepit assumptions about the nature of society. He wanted, quite simply, to start a new city in the middle of the ocean.
Friedman called it seasteading: "Homesteading the high seas," a phrase borrowed from Wayne Gramlich, a software engineer with whom he'd founded the Seasteading Institute in 2008, helped by a $500,000 donation from Thiel. In a four-minute vision-dump, Friedman explained his rationale. Why, he asked, in one of the most advanced countries in the world, were they still using systems of government from 1787? ("If you drove a car from 1787, it would be a horse," he pointed out.) Government, he believed, needed an upgrade, like a software update for a phone. "Let's think of government as an industry, where countries are firms and citizens are customers!" he declared.
The difficulty in starting a new form of government, said Friedman, was simply a lack of space. All the land on Earth was taken. What they needed was a new frontier, and that frontier was the ocean. "Let a thousand nations bloom on the high seas," he proclaimed, with Maoish zeal. He wanted seasteading experiments to start as soon as possible. Within three to six years, he imagined ships being repurposed as floating medical clinics. Within 10 years, he predicted, small communities would be permanently based on platforms out at sea. In a few decades, he hoped there would be floating cities "with millions of people pioneering different ways of living together".
Politics would be rewritten. The beauty of seasteading was that it offered its inhabitants total freedom and choice. In 2017, Friedman and the "seavangelist" Joe Quirk wrote a book, Seasteading, in which they described how a seasteading community could constantly rearrange itself according to the choices of those who owned the individual floating units. (Quirk now runs the Seasteading Institute; Friedman remains chair of the board.) "Democracy," the two men wrote, "would be upgraded to a system whereby the smallest minorities, including the individual, could vote with their houses."
In the decade following Friedman's talk, a variety of attempts to realise his seasteading vision were all thwarted. "Seavilization," to use his phrase, remained a fantasy. Then, in October 2020, it seemed his dream might finally come true, when three seasteading enthusiasts bought a 245-metre-long cruise ship called the Pacific Dawn. Grant Romundt, Rüdiger Koch and Chad Elwartowski planned to sail the ship to Panama, where they were based, and park it permanently off the coastline as the centrepiece of a new society trading only in cryptocurrencies. In homage to Satoshi Nakamoto, the pseudonym of bitcoin's mysterious inventor (or inventors), they renamed the ship the MS Satoshi. They hoped it would become home to people just like them: digital nomads, startup founders and early bitcoin adopters.
Their vision was utopian, if your idea of utopia is a floating crypto-community in the Caribbean Sea. No longer was seasteading a futuristic ideal; it was, said Romundt, "an actual ship". The Satoshi also offered a chance to marry two movements, of crypto-devotees and seasteaders, united by their desire for freedom – from convention, regulation, tax. Freedom from the state in all its forms. But converting a cruise ship into a new society proved more challenging than envisaged. The high seas, while appearing borderless and free, are, in fact, some of the most tightly regulated places on Earth. The cruise ship industry in particular is bound by intricate rules. As Romundt put it: "We were like, 'This is just so hard.'"
---
As with many stories about techno-libertarian fantasies, the tale of the Satoshi begins in an all-male, quasi-frat house in San Francisco in the late 90s. Romundt – a softly spoken Canadian with the optimistic, healthy glow of someone who combines entrepreneurial success with water sports – was living with a bunch of software engineers, all of whom shared an intense dedication to personal improvement. "I was a huge Tony Robbins fan," Romundt told me in one of several Zoom calls from his office in Panama. (Robbins' themes of individual freedom, self-mastery and the accrual of significant wealth are evident from the titles of his books from that time: Unlimited Power; Lessons in Mastery; Unleash the Power Within; The Power to Shape Your Destiny, and, next level, Awaken the Giant Within.)
After his San Francisco stint, Romundt, the son of a hairdresser, created ScissorBoy in 2009, a popular online TV series on hairdressing, and then ScheduleBox, a website which offered a digital receptionist service for hairstylists to book in their clients. (Always digitally inclined, he had, according to his website, the world's "most advanced mobile paperless office in 1995".) "I used to work 17 hours a day, so I didn't have a lot of freedom," he told me. He did, however, make enough money to semi-retire in 2016 and then spent "no more than five hours a month" running his business. The giant fully awakened, he moved back to Canada, where he lived on a houseboat on Lake Ontario and went kayaking in the mornings as the sun came up. Enraptured by his lifestyle, Romundt wondered why everyone wasn't living this way. On a flight one day, he saw a man wearing a T-shirt with "Stop arguing. Start seasteading" printed on it. Romundt was curious, they got talking, and the man turned out to be Joe Quirk, who was by this time running the Seasteading Institute.
So far, the Seasteading Institute had experienced variable, or zero, success with its projects. Early ideas for a "Baystead" and "Coaststead" off the coast of San Francisco and a "Clubstead", a resort off the coast of California, never made the leap to reality. An attempt to create a floating island prototype in French Polynesia in 2017 met with fairly fierce resistance from the people of French Polynesia and collapsed a year later when the government pulled out of the scheme.
After meeting Quirk, Romundt decided he wanted to try again. Quirk introduced him to two other aspiring seasteaders, the passionately libertarian American Elwartowski and the bitcoin-wealthy German engineer Koch. Together, the trio founded a company, Ocean Builders. Using their own money, they funded the first attempt at a single residential seastead, in the form of a floating white octagonal box 12 nautical miles off the coast of Thailand. Elwartowski and his girlfriend, Nadia Summergirl, lived there for two months in early 2018, until the Thai government discovered the seastead's existence and declared it a threat to the country's independence, possibly punishable by life imprisonment or death. Elwartowski and Summergirl had to flee the country before the Thai navy dispatched three ships to dismantle the floating box.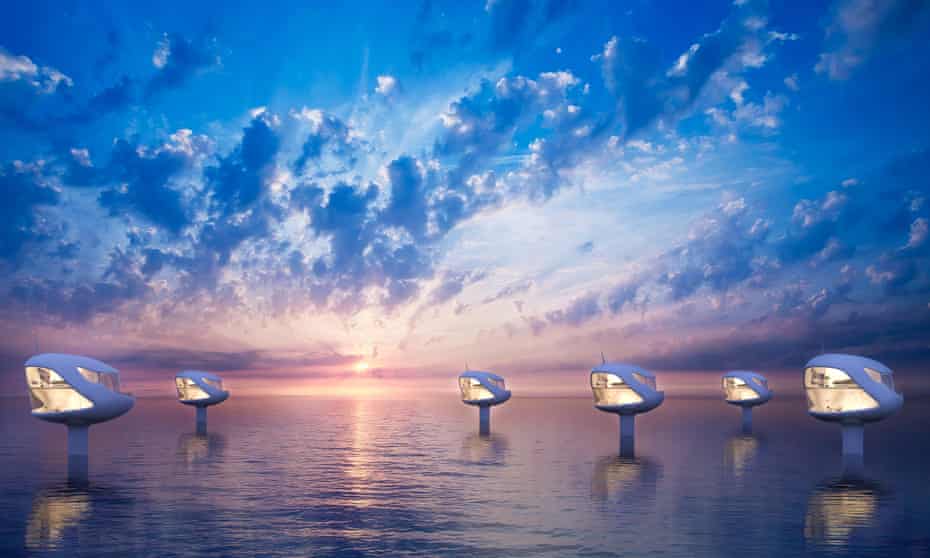 The seasteading movement did not die there. In 2019, Romundt, Koch and Elwartowski moved their company to Panama, where they had found a government willing to back their next project: the SeaPod. These would be individual floating homes held 3 metres above the water by a single column and a tripod-shaped base beneath the ocean. The man responsible for their design, Koen Olthuis, is a Dutch "aquatect", an architect specialising in water-based schemes. In rendered drawings, the SeaPods look fantastical, like a giant's white helmet emerging monstrously from the waves. Inside, every surface is curved, as if you were living within the smooth, colourless confines of a peppermint. Romundt compared the SeaPods to the architecture in The Jetsons, the 60s cartoon where the characters lived in glassy orbs in the sky. "It's like that," he told me, "but on water." The team built a factory from scratch in Linton Bay, a marina on the north coast of Panama, hired a team of about 30 engineers and mechanics, and, in early 2020, began building the first SeaPod prototype.
Progress was slow. Even once they had a successful prototype, Romundt predicted the factory would only make two SeaPods a month. They'd had the idea before of buying a cruise ship – a quick way of scaling up the community – but the cost had always been prohibitive. By autumn 2020, though, the situation had changed. Like many parts of the travel industry, the cruise ship business was collapsing because of the pandemic: multiple cruise lines were going into administration, empty ships filling up ports like abandoned cars in a scrubby field, or being sent to the scrapyard. Cruise ships, the Ocean Builders trio realised, would be going cheap.
Sure enough, they found a bargain. In October 2020, Romundt, Koch and Elwartowski bought the ex-P&O cruise ship Pacific Dawn for a reported $9.5m. (Built in 1991 for $280m, the ship could have sold pre-pandemic for more than $100m, one industry insider told me.) They instructed Olthuis to draw up the plans, placing the ship at the heart of a floating community surrounded by SeaPods. "We had a kind of funny idea," Olthuis told me. In his scheme, the Satoshi would connect, via two looping tunnels on the water, to human-made floating platforms designated for agriculture, manufacturing and parkland. From the air, the whole community would form the shape of the bitcoin…


Read More: The disastrous voyage of Satoshi, the world's first cryptocurrency cruise ship |