The cryptocurrency market collapsed in the past 24 hours losing more than $100 billion in market capitalization.
DeFi tokens have remained strong and even managed to rally despite the recent sell-off.
A number of DeFi tokens have been outperforming Bitcoin and Ethereum in the past week. Uniswap is up by 6% in the past 24 hours and has been trading in a massive uptrend since November 4, 2020. 
Although Synthetix had a significant 8% drop today, the digital asset is up by more than 550% since November 2020. Similarly, Aave has been trending upwards since November as well.
Synthetix bull run has solid numbers behind it
The price increase of SNX wasn't just a random pump. The number of new addresses in the past month has increased significantly, which indicates a lot of new investors have joined the network.

SNX new addresses
On the daily chart, SNX price has been able to steadily climb above the 12-EMA which has served as a robust support level throughout the rally. SNX just hit its all-time high at $16.5 which means it's facing practically no resistance above.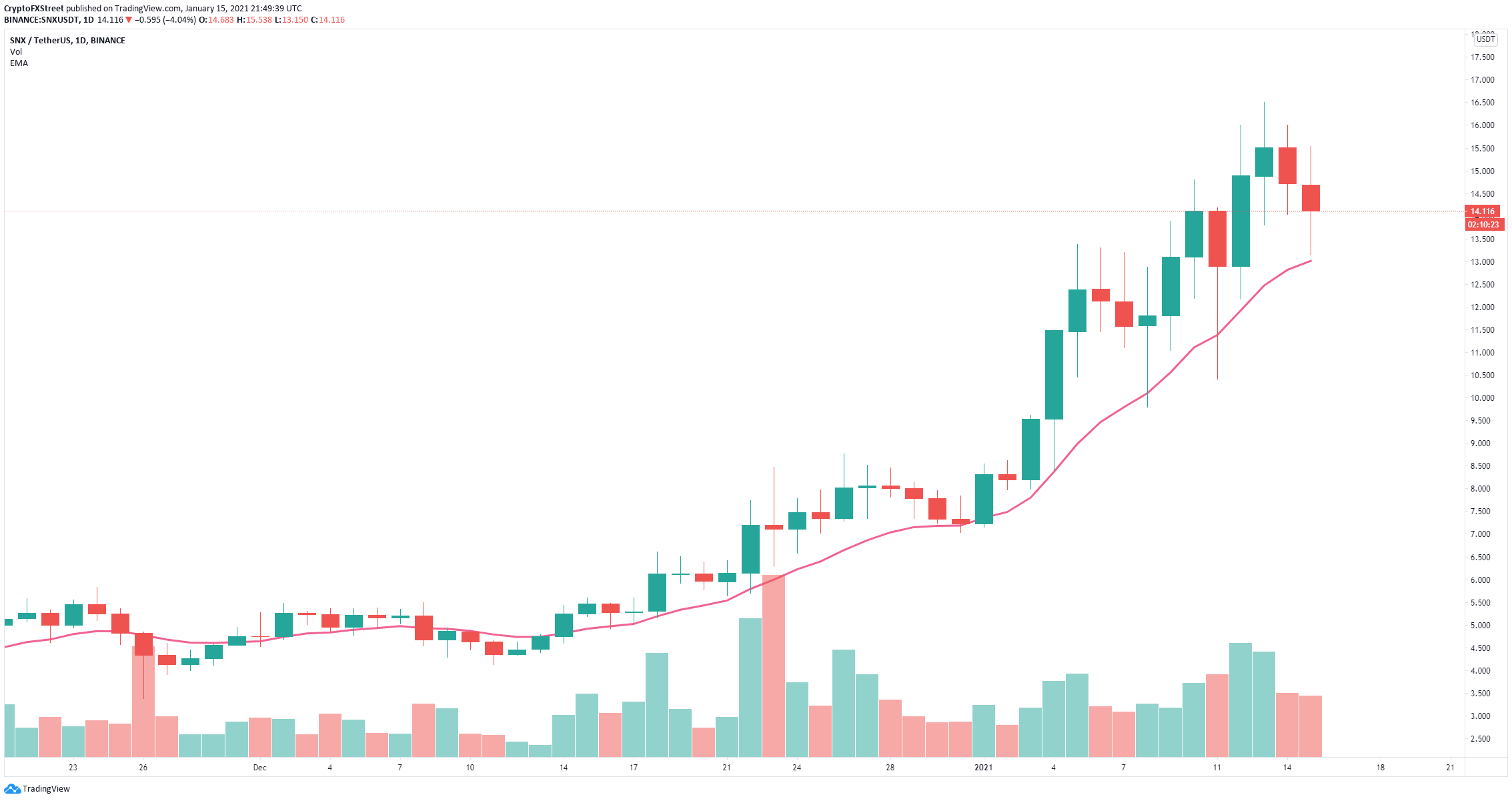 SNX/USD daily chart
However, losing the 12-EMA level would be notable and a bearish sign capable of pushing SNX down to $10 in the mid-term. 
Aave price seems to have no limit
Similar to SNX, Aave has been trading inside a robust uptrend and just hit a new all-time high at $163.7. The digital asset is currently in price discovery mode and faces very little resistance in the long-term.

AAVE Holders Distribution
Surprisingly, despite hitting new all-time highs, the number of whales holding between 100,000 and 1,000,000 coins ($16,000,000 and $160,000,000) has increased by four in the past five days which indicates large holders expect AAVE to rise even higher.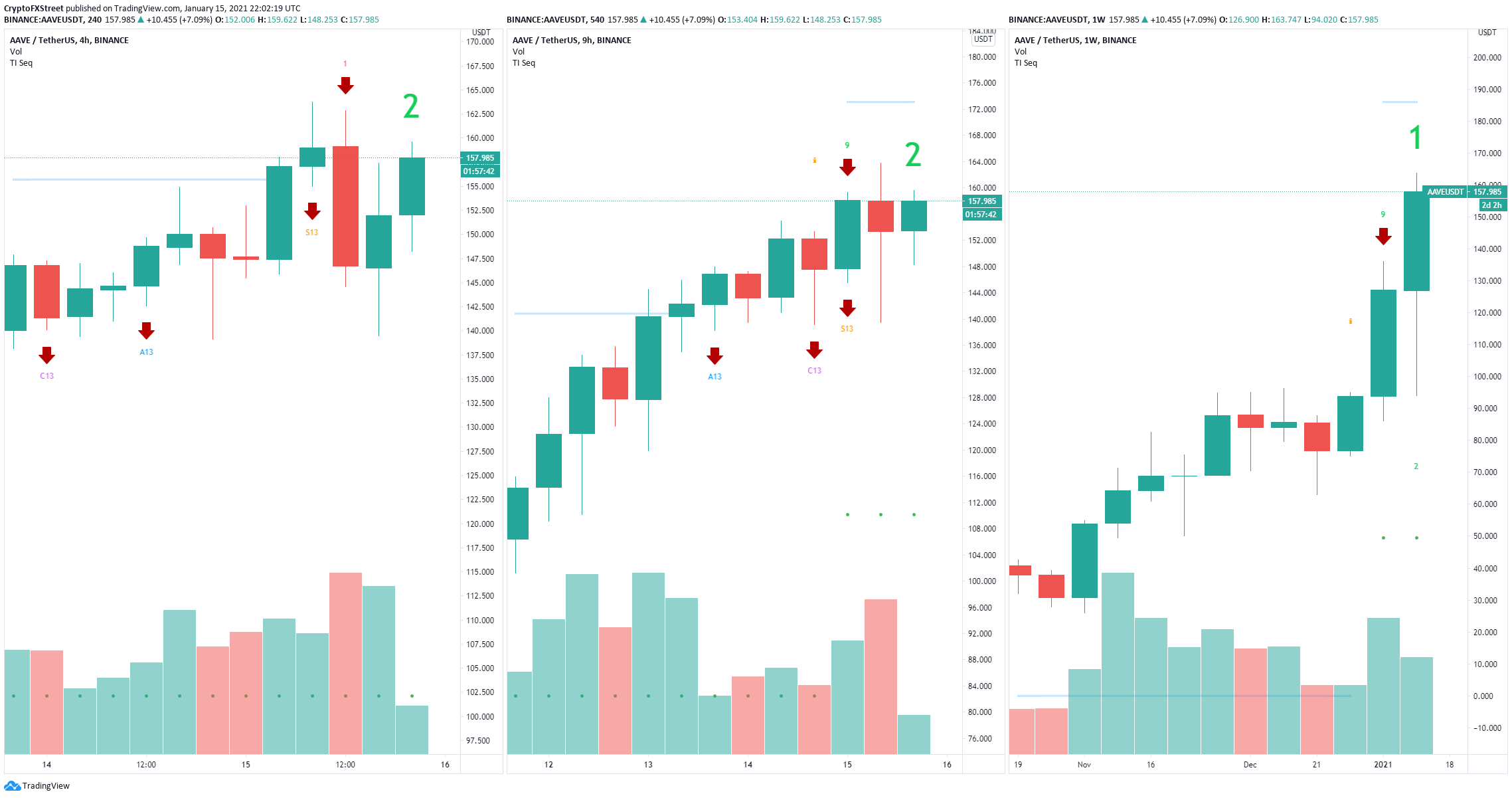 AAVE sell signals
However, the TD Sequential indicator presented a sell signal on the 4-hour and 9-hour charts as well as on the weekly chart last week. Although the call on the weekly chart seems to be getting invalidated, there is still time for confirmation which could push AAVE price down to $100. 
Uniswap whales continue to accumulate
Despite UNI price hitting new all-time highs at $7.4, whales have continued to accumulate the digital asset. According to Santiment, the number of large holders with at least 100,000 and less than 1,000,000 coins increased by 13 in the past month. Similarly, bigger whales holding at least 1,000,000 and up to 10,000,000 coins also continued to join the network increasing by three in the last month.

UNI Holders Distribution
This clearly shows that large investors are highly interested in Uniswap even at these prices. On top of that, the number of UNI coins inside exchanges has continued to decline since January 1, 20201. 

UNI supply on exchanges
Despite the major price rise of Uniswap, the number of coins inside exchanges dropped from 7% of the supply to 6.83%. Although this might not seem like a huge difference, it indicates that investors are not looking to sell the digital asset just yet.


Read More: DeFi takes the lead in the recent run-up in the cryptocurrency market