You've probably never heard of the White House Market. Google can't find it. Its vendors don't advertise much. The few public references to the website are on Reddit forums or specialty tech blogs. But among users of the dark web, "WHM" was, for years, the go-to online marketplace for illegal drugs and fraudulent credit cards.
Despite never reaching the peak trading volumes of its more-famous cousins, Silk Road or AlphaBay, White House Market had established itself as one of the most popular—and secure—markets on the dark web. So when WHM unexpectedly closed on October 1, it came as a shock to the platform's dedicated user base.
The site's one-page resignation letter was short on details, saying simply that the White House Market had "reached our goal" and that "now, according to plan," the site was shutting down.
"Thanks everybody for your business, trust, support and of course for placing decent amounts of money in our pockets," the letter read. "We may come back some time in the future with a different project or we may not." The letter was signed by WHM's lead administrator, who is known only by his online handle, "mr_white."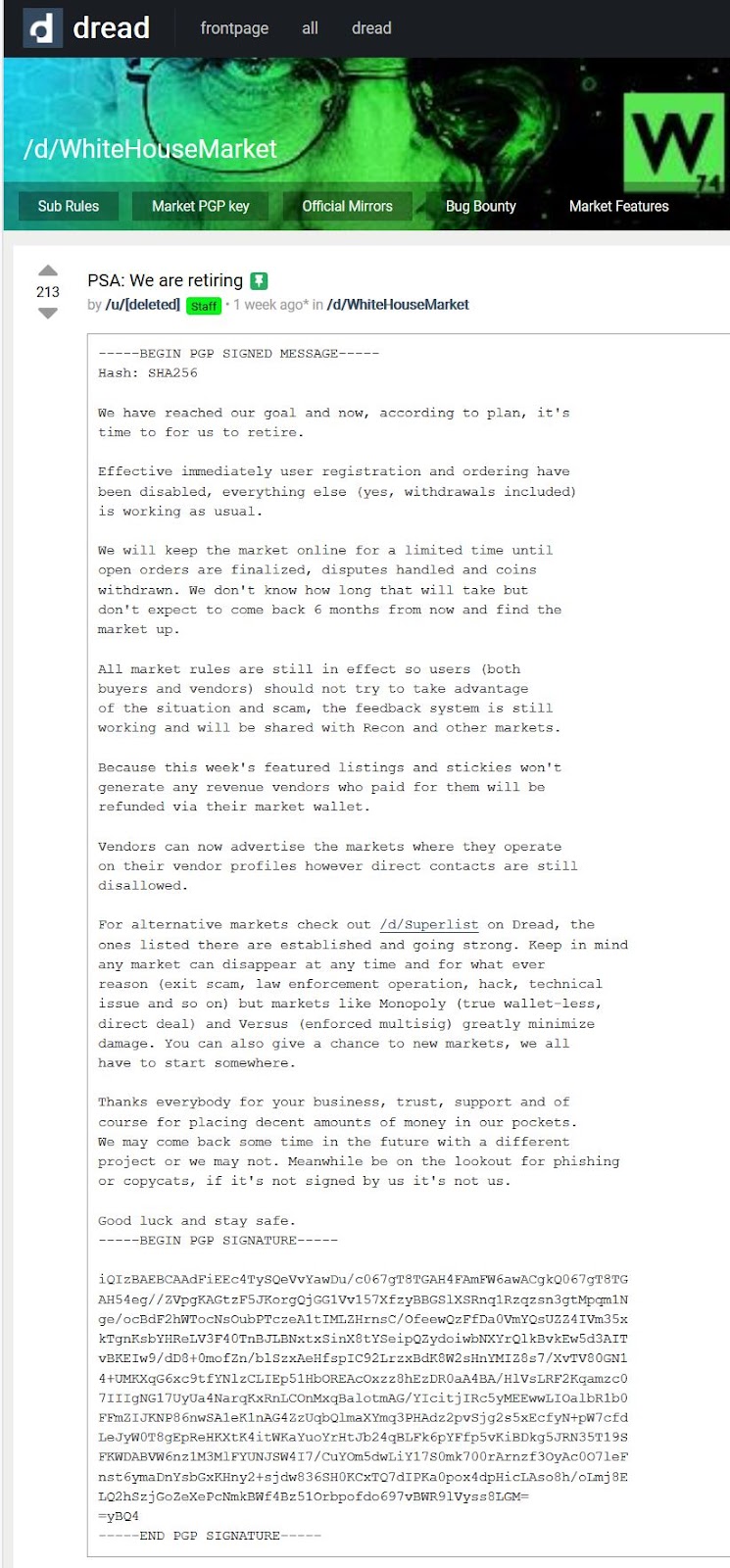 At the time of its closing, the platform had nearly 900,000 users, of which more than a third—roughly 326,000—were active. Like other dark web markets, it was accessible only on anonymity browsers like Tor and I2P. Going by their advertised numbers, White House Market had around 3,000 vendors, whose listings included credit card and bank fraud, forged documents, illegal and prescription drugs like cannabis, ecstasy, opioids like heroin and oxycodone, hallucinogenic drugs, including ketamine and PCP, cocaine, steroids, and amphetamines or meth.
That final listing matches the site's theme, which features Walter White from Breaking Bad on the banner. But unlike Walter White's fictional operation, this one had a global presence, with vendors and buyers stationed all around the world, although most transactions were conducted in English.
On Tuesday, less than a month after White House Market shut down operations, the Department of Justice announced the results of Operation Dark HunTor—a sweeping, international dark web takedown that resulted in 150 arrests, along with the seizure of weapons, drugs, and more than $31 million in cryptocurrency and cash. A select few of the dark net vendor accounts identified were sourced to White House Market, according to court documents. Whether White House Market and its administrators are under ongoing criminal investigation is an open question.
It's unclear how much WHM's founders made since starting the site in August 2019 but it charged a 4 percent commission on all sales via an almost-untraceable cryptocurrency called Monero. Nicolas Christin, an associate professor at Carnegie Mellon University whose research focuses on online crime modelling, security economics, and cryptocurrency, estimates that White House Market facilitated at least $35 million in sales, meaning the administrators' take-home pay could have been at least $1.3 million over the past two years.
On the high end, Christin estimates that sales could have reached $120 million, which would mean the site's admins walked away with nearly $5 million in their pockets.
White House Market was also known for its exceptional digital security, dependable customer service, and, perhaps ironically, its ethics: It didn't allow vendors to sell child pornography, offer murder for hire, or market weapons, explosives, or poisons.
Now that it's gone, experts say new portals will fill the void, borrowing some of White House Market's tactics and setting market-wide standards in the process, like encoding all communications with PGP (Pretty Good Privacy) encryption and switching to prioritizing Monero, a decentralized cryptocurrency that labels itself as "secure, private, untraceable."
This is according to a review of black market websites, and interviews with dark web users and experts who track the industry by Columbia University's Brown Institute for Media Innovation and MuckRock.
"Historically, based on 10 years of data, anytime a large marketplace has closed, second-tier marketplaces started to fill in the gaps. White House started like that," said Christin. "You have an evolution from markets and places run by people in the proverbial basement to something that looks a lot more like an industry which is starting to adopt some standard operating best practices."
Only, these industry-wide best practices will make illegal online trades even harder to track for law enforcement.
A history of markets rising then failing
On the dark web, a peaceful retirement is exceedingly rare. Most of WHM's predecessors have been shuttered after their founders were indicted, arrested and, in one noteworthy case, found dead in their cell of suspected suicide before reaching trial.
Dark web drug sales—which form the majority activity there by volume—represent a small but growing portion of the total world-wide drug trade. Exact numbers are difficult to pin down, but in2021, the United Nations Office of Drugs and Crime estimated that such drug sales quadrupled in size over the past decade, reaching $315 million. Christin, whose team collects the data used extensively by the UN, puts the upper bound closer to $1 billion, since his team can only track a fraction of all sales taking place on these platforms.
The first such modern black market to demand public attention was Silk Road—a $1.2 billion operation at its peak. Silk Road launched in 2011, serving over 100,000 customers and popularizing the use of Bitcoin in black market transactions. The market was taken down in 2013 by an FBI investigation. Its administrator, Ross Ulbricht—using the online alias "Dread Pirate Roberts"—was eventually sentenced to life in prison without parole .
Other markets swelled to fill the vacuum, chief among them AlphaBay. It was established in late 2014 and it encouraged (but did not mandate) the use of Monero. By July 2017, AlphaBay was roughly 10 times bigger than Silk Road ever was. Around this time, one of AlphaBay's administrators, Alexandre Cazes, made a series of mistakes, exposing his identity. Operation Bayonet, a multinational law enforcement operation, pounced and shut AlphaBay down, arresting Cazes, who was found dead in his cell weeks later.
After the bust, users scrambled to find a successor to AlphaBay. Many fled to Hansa – the third largest market at the time. But Dutch police had already taken over Hansa's market operations, which meant the newly displaced Alphabay users were busted through Hansa instead.
Other major contemporaries like Dream faced their own troubles. Dream's founder had been arrested by American police in August 2017. Beleaguered by DDoS attacks and operational security issues, the platform finally shut down in 2019.
White Hat Market's differentiator was security
Since launching in August 2019, White House Market was determined to do business a little differently. Commenting on the platform's origin story in a DarknetOne interview this summer, mr_white said they "saw an opportunity, considered we had the required capabilities, and gave it a shot."
The platform founders implemented arguably the most stringent user security protocols of all dark net markets in existence today. They popularized the use of two-factor authentication and PGP encryption for all communications between buyers and sellers.
White House Market also insisted that all users shift to Monero for transactions, making them close to untraceable. And while other dark net markets balked at mandating complex security protocols for users at the time, buyers did not seem to mind playing by WHM's rules.
One anonymous buyer I spoke to said White House Market had the best rules and regulations compared to any other marketplace they had used. As mr_white himself puts it, "Both PGP and XMR are not as scary as they sound, for most users they learn it once and they will get it right afterwards."
White House Market also led to other markets mandating PGP encryption and going walletless, says Eileen Ormsby, a lawyer and author of several Dark Web true crime books. Those precautions disincentivize platforms and vendors to use so-called "exit scams"— where an established business stops shipping orders while receiving payment for new orders.
"White House Market was unusual in that it was pretty much a walletless market, although it did not advertise itself as such," says Ormsby. This meant users never kept a cryptocurrency wallet on the platform and simply paid for services or goods as they came up. The platform also operated in "escrow," meaning the platform held the money in all transactions until all terms had been met, to keep their buyers' good faith during trades.
Even careful dealers trip up
But even the strictest on-platform security protocols can't necessarily keep dark net market users out of the hands of law enforcement. Paul Engstrom—a 45-year-old Las Vegas man allegedly with a thriving drug operation, two stash houses, and a team of dealers—had taken pains to set up Monero for all his WHM transactions, court documents say, and used cryptocurrency mixers or tumblers to render less-secure cryptocurrency transactions untraceable.
Prosecutors say that Engstrom was one of the most prolific cocaine vendors on White House Market, going by the handle "Insta." DEA agents had been investigating Engstrom since October 2020, and he allegedly sold at least 20 kilos of cocaine through the White House Market for three times its street price in Las Vegas—netting an estimated $1.9 million in just four months in 2021.
Engstrom's indictment, announced by the DOJ on Tuesday, also provides a window into how investigators trace even the most careful dark web transactions….


Read More: One of the dark web's biggest online retailers of drugs and fake credit cards